LIMITED-EDITION COLLECTION

Certificate of Authenticity
Energy Efficient

Easy to install
The collection focuses on an explosive fusion of urban graffiti art and mesmerizing illumination. Each sign embodies Futura's iconic style and avant-garde vision, delivering a captivating blend of vibrant colors and dynamic compositions.
Numbered, engraved, and sold with a certificate of authenticity. Only 50 to 100 pieces per neon are available.
SHOP NOW
AN EXPLOSIVE FUSION
By merging our creative forces, we redefine the boundaries of contemporary art and invite art enthusiasts to embrace a new era of illuminated artistic expression.
Fusion of Urban Graffiti & Illumination
The collection seamlessly blends the raw, expressive elements of urban graffiti art with the mesmerizing glow of LED neon illumination, resulting in a captivating fusion that pushes artistic boundaries.
Vibrant Colors and Dynamic Compositions
Each limited edition LED neon sign within the collection showcases FUTURA iconic style, featuring vibrant color palettes and dynamic compositions that captivate the viewer's attention and create an immersive visual experience.
Exclusive and Limited Edition
With only a limited number available, this collection offers a rare opportunity to own a truly unique masterpiece. Each sign comes with a certificate of authenticity, further enhancing its exclusivity and value.
Immersive and Transformative Art Experience
The LED neon signs not only illuminate spaces but also evoke emotions and stimulate the imagination. Whether displayed in homes, studios, or urban environments, these artworks have the power to captivate and inspire, creating a profound connection between the viewer and the art.
LIMITED QUANTITY
5 Results
ABOUT FUTURA
FUTURA (b. Leonard Hilton McGurr, 1955, New York) is a renowned abstract painter and pioneering graffiti artist from the 1970s. His innovative style combines text, imagery, aerosol lines, vibrant colors, and white space. In the 1980s, alongside fellow artists Keith Haring, Jean-Michel Basquiat, and Kenny Scharf, Futura began showcasing his works on canvas in esteemed art galleries. Inspired by science fiction and computing, his dynamic compositions have been exhibited at prestigious institutions such as the New Museum and the Museum of Contemporary Art, Los Angeles. Futura's collaborations with top fashion brands like Supreme, Comme des Garçons, Nike, and Off-White further showcase his influence and reach in the art world.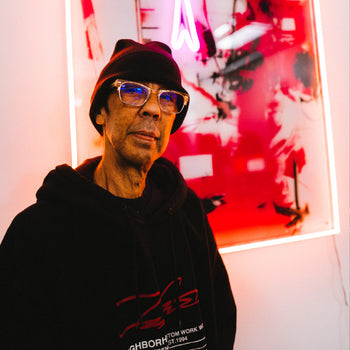 "Graffiti was a way for me to exist. I wanted the world to know my name. I wanted to be somebody."
"Graffiti was a way for me to exist. I wanted the world to know my name. I wanted to be somebody."