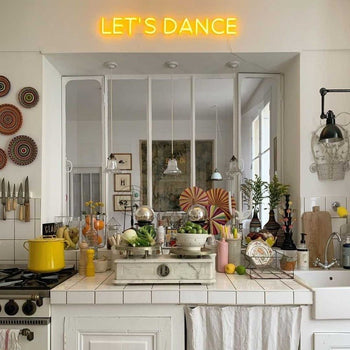 High Design: How to decorate with neon like a pro
Apr 21, 2021
Read More
Bring illuminating art indoors with our guide to decorating with LED neon signs.

If you're as crazy about neon as we are, then you know it's the key to an expertly designed space and a perfectly composed post. We love taking cues from swanky events and celebs' homes to bring the illuminating power of neon signs straight to decor lovers around the world. Check out a few of our fave ways to decorate with neon signs in unexpected rooms.
Make an Entrance: Welcome guests with an LED neon sign

Wow your guests when they walk in the door with an LED neon sign in your entryway. Whether you want to simply say hi, or you're imploring them to take off their shoes, entryway neon gets the message across with style. One of our favorite mud room ideas is to hang a piece of custom neon over each family member's cubby or space. Use your kids' names, initials, or illustrations of their favorite things to call out the storage area that belongs to them. If you don't have children, personalized neon works great for roommates, pets, and couples too.
Dream Kitchen: Have fun with food shaped neon signs

Who says you can't play with your food? We think the kitchen should be festive and fun. And neon signs are an on trend way to add some pop to the heart of your home. For a Warholian nod, plug in a neon banana sign, or make it savory with a super-duper burger stacked high. Juicy fruits, ice cream, pretzels - we're getting hungry just thinking about the possibilities. If you're more into quotes for your kitchen, let us create your custom LED sign with something meaningful to you. From "Hot Sauce Fixes Everything" to "But Coffee First," your fave kitchen quote sign is even better all lit up.
Bathtime Rituals: Make LED light part of your self-care

If you're into beauty products with a techy edge, you've probably heard the buzz about LED light therapy. While we can't say neon signs have been tested in the beauty labs, we know how they make us feel. And at the end of a hard day, self-care is all about balancing your mood. So throw on your favorite sheet mask, pour a glass of wine or cup of tea, and make your bathroom a neon lit escape. We love anything with a heart and sayings that help us channel our best selves like Sarah Bahbah's High on Inner Being. If you've got your own personal mantra, try our custom sign builder and create something that speaks directly to you.
Bedroom Moves: Heat it up or create a calm, cool nest

Where better to unleash your sultry side than the master bedroom? To turn up the mood, hang a statement piece that pairs perfectly with a come hither smile. May we suggest a sexy siren with red lips or a classic set of neon cherries above the bed? If your room is more of a sanctuary than a space for entertaining, we've got LED neon signs for that too. Find a dreamy illustration or make your daily affirmations into a neon sign. We think "Hello Gorgeous" and "You Got This" are perfect morning motivation in a master bath or bedroom vanity space
Inspired to start decorating with neon? We can't wait to see what you do. Share your pics with us and show us how you use neon to make your room shine.