Finding Your Line: Swiss artist VICON talks creative exploration
Apr 14, 2021
Read More
Get to know VICON, an artist whose distinctive line drawings expand far beyond her sketchbook.

Known As VICON, Swiss born, London based artist Victoria Boissonnas explores her instincts by getting lost in the creative process. Traveling through emotional landscapes. The role of the body envelope. What it means to be a human being. For VICON, work that appears lighthearted on the surface goes deeper on a second look.
She's a creative polymath that expresses herself through illustration, though her motifs carry over to murals and projects in photography, performance, and video. As long as it serves the narrative, any medium is fair game. We caught up with VICON recently to chat about the intersection of her work with fashion and what keeps her stepping into the unknown.
Thanks for your willingness to chat with us about your creative process, Victoria. We're excited to share your story (and your neon) with our readers.
How would you describe your art practice in physical terms - medium, size, texture?

A simple black uni-ball pen and a piece of paper is often all I need to conceive my illustrations. However, my curiosity is endless. I treasure exploring further out my comfort zone and discovering how my line meets with different materials and textures.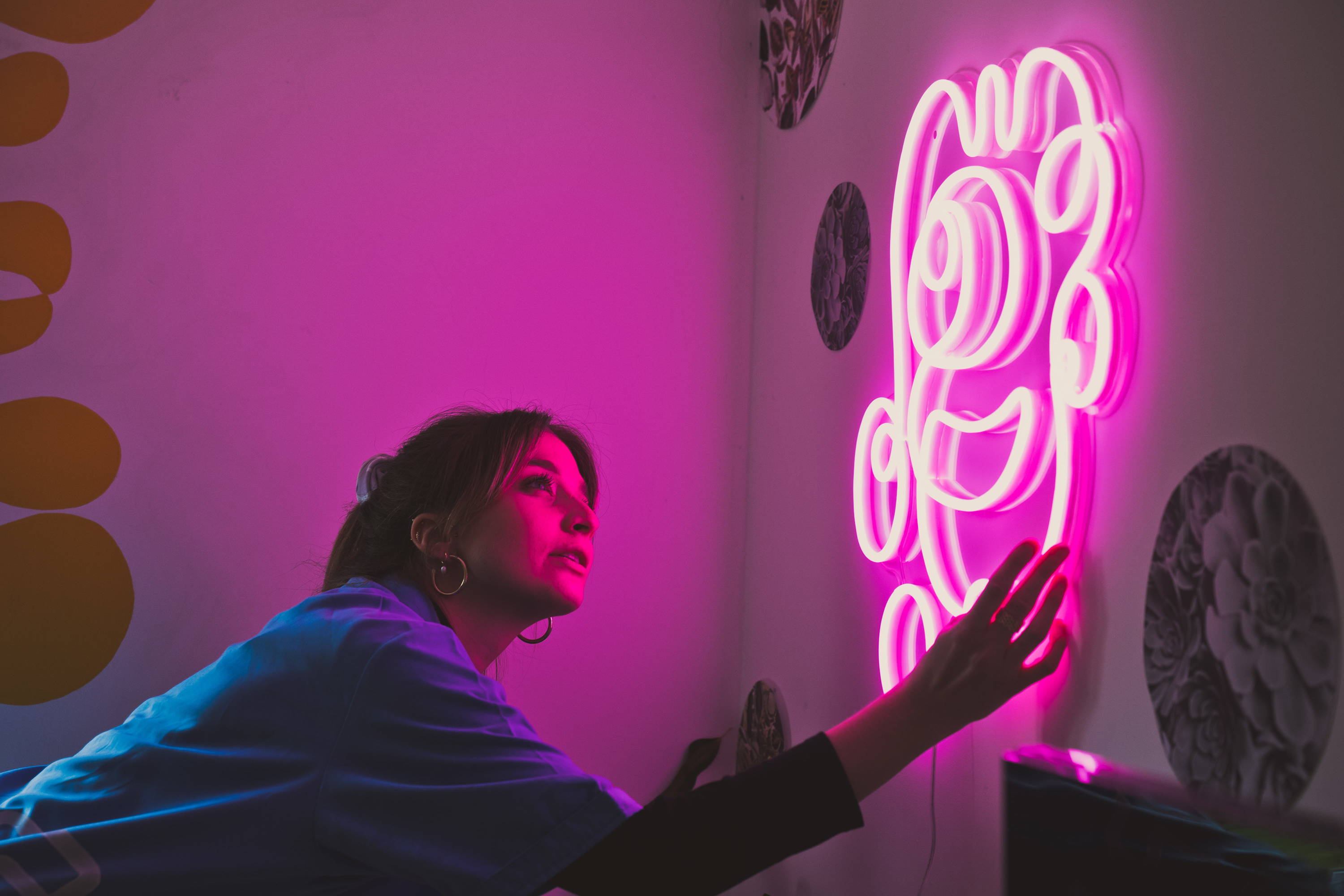 How would you describe your art practice in conceptual terms?

I use the one-line technique to explore an emotional, an instinctive universe. Through my drawings, I allow myself to let go and access a sort of meditative state where I elaborate and discover new compositions. When I am building a visual project, it is crucial for me to work on topics that are close to my heart. Additionally, to my recurrent thematic focusing on the body envelope, I often work on the concept behind being a woman in our society - the woman's body and all the rooted stereotypes that come with it. My creative process has become a crucial need in my everyday life, and I use it as a tool to depict my own vision of our society and explore intriguing questions of my existence on this earth.
I see you're a bit of a polymath. Do you have a favorite medium? What do you like about it?

One of my favourite things to do in order to allow myself to completely let go of the logic side of my brain and only be guided by the line is to take a pen in each of my hands and draw with both hands at the same time. I find it really relaxing and it is a great way to explore a more instinctive aspect of my creative process.
Do you find yourself using a lighthearted delivery system to address difficult or important issues?

Through my illustrations, I expose a really personal part of myself. I believe that the fact that they can be perceived as playful and lighthearted is what makes them special. They allow the spectator to contemplate and simply appreciate the lines and the colours, but they also give the opportunity to go deeper in the exploration of the composition and take a moment to reflect on the personal meaning behind each composition.
Tell us about your projection series. How does using light impact the effect of your illustrations?


Merging opposite universes is something that always gave rhythm to my creative research. I worked with a scientist to understand the general functioning of the brain and the emotions that each human being has to deal with every day. I wanted to create a visual representation of the complicated relationship between the body and the mind using colors, shapes, and scales. I projected my illustrations on a human face during a photoshoot to create a striking visual that was regrouping my explorations.
---
What inspired your yellowpop sign? What was your creative process like?

While drawing in my sketchbook, I suddenly came up with this shape and sensed that I wanted to bring it to another level. After editing the drawing, I felt that these lines would work perfectly with neon lights.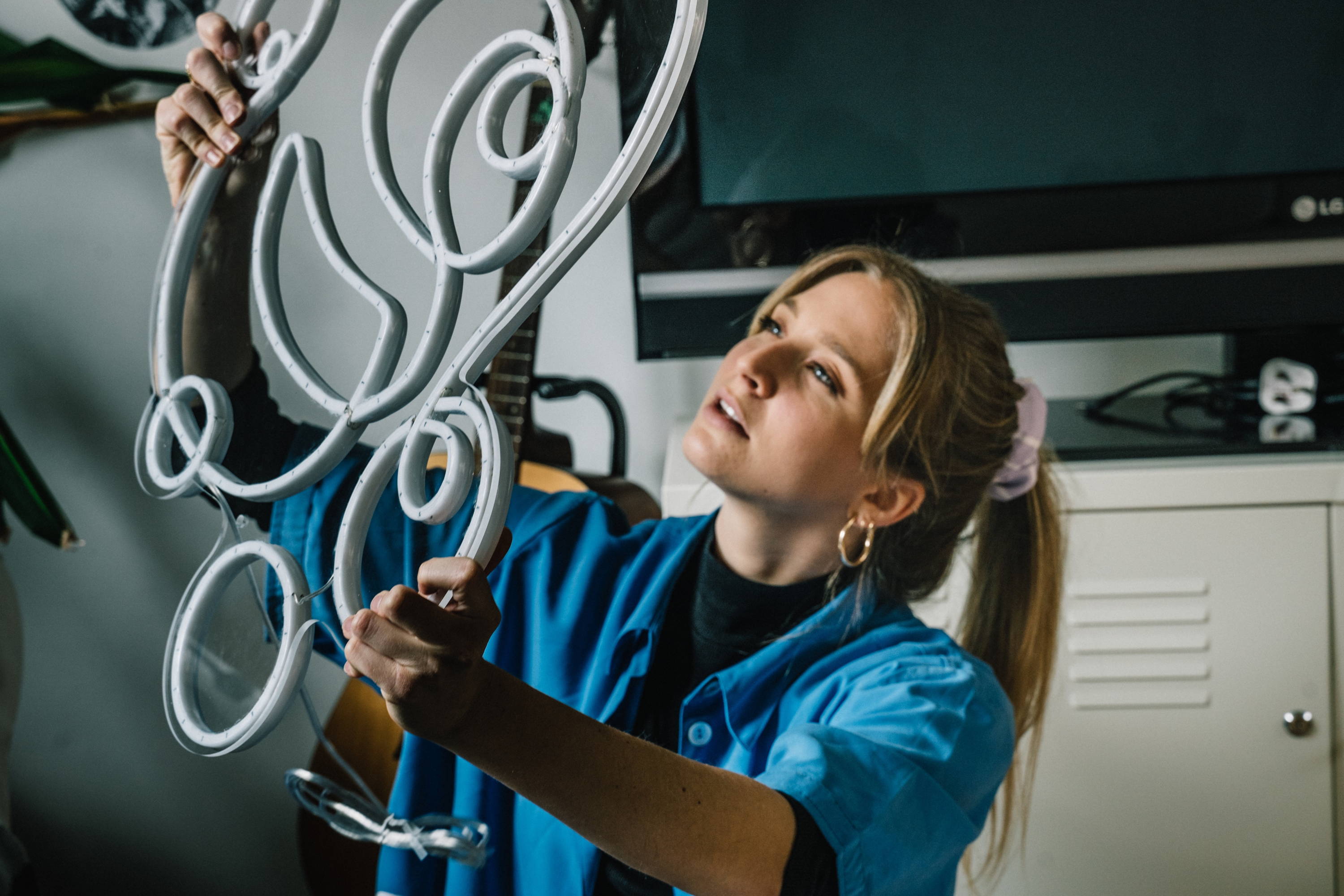 How did you get involved in fashion? How does it feel to see your work walking around on someone's back?

In the past, I screen printed some of my drawings on different garments. However, the first time I saw my work on an actual designed piece of clothing was during the collaboration collection with Elise Testot, a French designer based in Paris. Merging our creative universes, we created a unique hand-made capsule collection using my illustrations as textile ornaments to bring visual rhythm to the collection. It was really emotional to see something so personal projected to this next level of exposure.

I see you've worked on murals, interiors - pretty much any surface you can make your mark on. How much fun are you having drawing and painting on walls?

Getting out of my comfort zone is something crucial to my creative development. My first mural was in a club in my hometown, Geneva. After this project, I've been commissioned in different public places to create mural projects. It is always an interesting experience to get out of the sketch book and bring my creations to a bigger scale. I am regularly looking for new projects like these as they allow me to test different compositions and learn new techniques.
If you could share your work with one artist (living or dead), who do you think would appreciate it?

The main artist that has been guiding my work since I started to draw is Egon Schiele. In his paintings he questions similar topics. I would be curious to hear his insights on my perception of the human body. However, I would also love to show my work to the talented actress, writer, and producer Phoebe Waller-Bridge. I absolutely admire her strong female power and her nonconformist achievements.
Do you have any recommendations for podcasts, books, blogs, your next Netflix binge?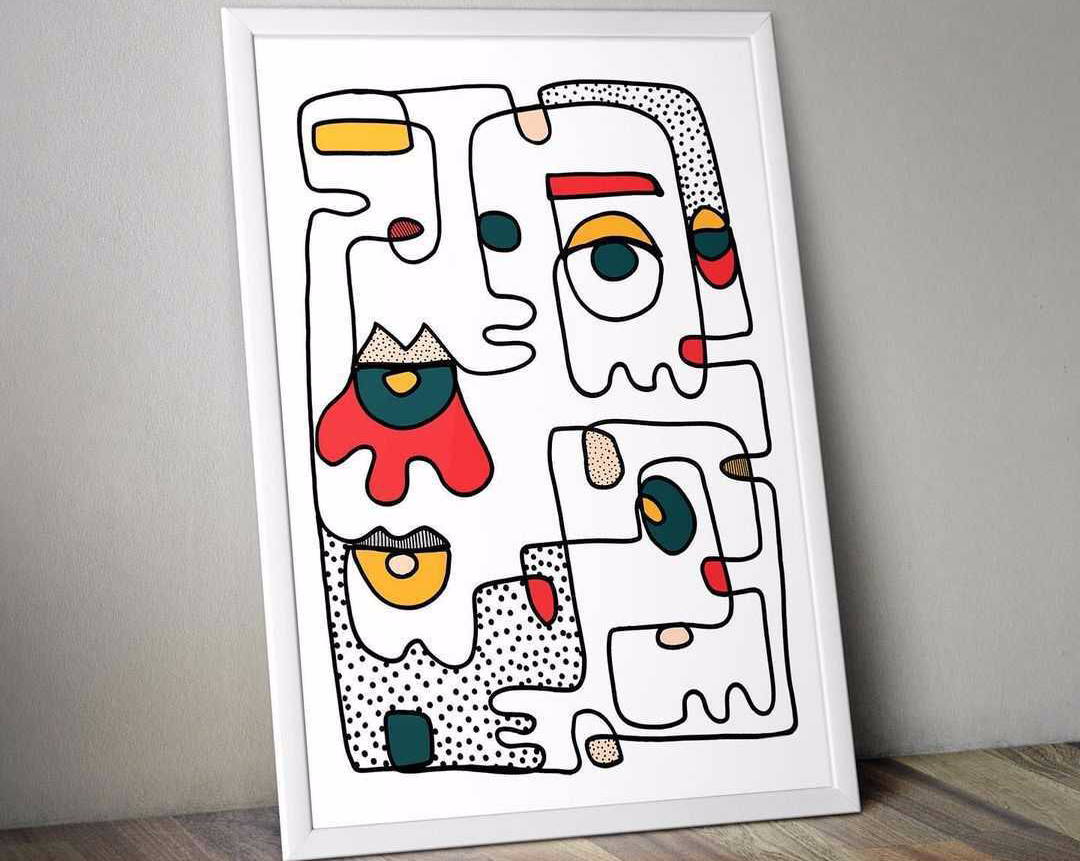 Tale Tellers written by Nancy Huston is a book that has been following me since I read it 8 years ago. It changed my perception on the human existence and inspired me throughout my creative projects.
On a different topic, I would also advise the illustrated book called Jouissance Club (Bliss Club in English) written by Jüne Pla. This graphic manual is a reference for visual innovations around the subject of pleasure and sexual freedom.
That about covers it. Thank you! Is there anything new or exciting coming up in your life or creative practice you'd like to share?

I am officially launching my brand concept this summer with the inauguration of my e-commerce platform. VICON is going to be an illustration-based brand created by a female artist who promotes easy access to art infused products while shedding a spotlight on the manufacturers behind small handmade productions. I am actively looking for people to collaborate with on new projects in the near future so feel free to message me!