Whether you love getting cut flowers or you're in the business of making beautiful bouquets for others, neon and flowers are the perfect match. Florists have always had an eye for design, and thanks to our easy to install, approachably priced LED neon signs, you can borrow a few of their decorating cues. Simply place a bouquet in proximity of your neon sign, and watch the mood of the room evolve.
Neon Florist Signs: Stand out with a custom sign
For a floral pro, a great neon sign is the one constant in a shop that's continually changing. From Valentine's red to wedding white, their inventory alone makes a trip to the florist a sensory experience. Add in the fragrant air and the secret excitement of sending and receiving flowers, and it's pure bliss. Our favorite florists are the ones who pair their perfectly placed blooms with neon too. Neon adds the perfect glow behind the counter and an invitation to peek inside from the street.
Swoon Worthy Socials: Create your own still life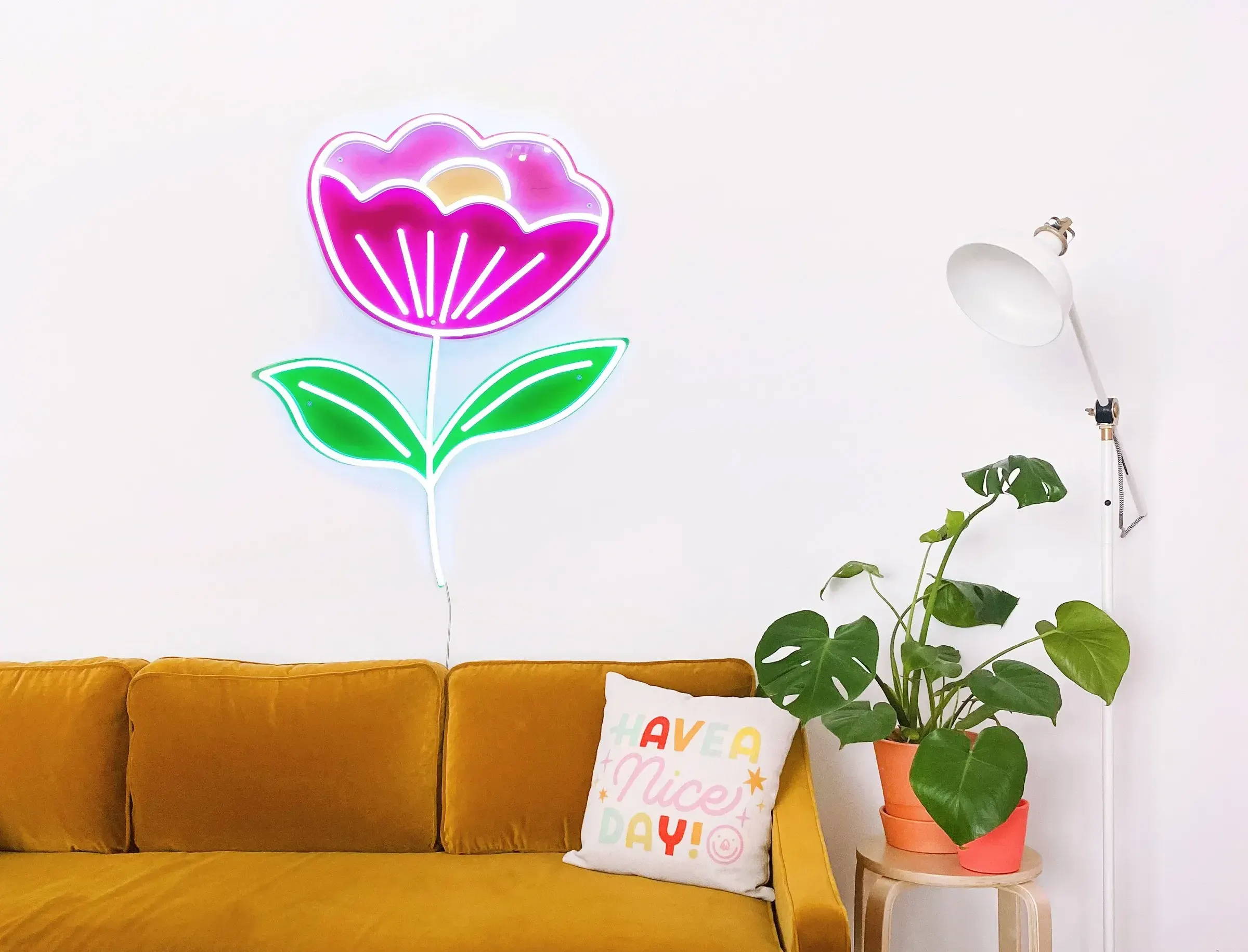 While bountiful bouquets may start their journey at the florist, it's the lucky guy or gal on the receiving end of a flower delivery that really has time to enjoy them in their full glory. If you're gifted a bouquet (or grab one for yourself), incorporate it into a camera ready still life with your favorite neon sign. On a coffee table, at the entryway, in your master bath - wherever you place flowers and neon, a picture perfect composition is sure to follow. Who doesn't love a little colored light reflecting off soft pastel petals?
Garden of Dreams: Light up your outdoor space
Plug in an all weather LED neon sign and bring your house party outdoors. Like tea lights for your patio with a little more edge, neon signs are one of the coolest outdoor lighting ideas yet. Our neon signs feel right at home tucked into a bougainvillea or a fern laden living wall. And next to the barbeque, potted plants, or pool, a custom neon sign offers plenty of opportunity to create your backyard oasis your way. Grill master, green thumb, lord of the lounge chair - it's your yard, and when you plug in a neon sign outside, the whole neighborhood will want to come over and play.