Brent Bolthouse Talks the Future of Hospitality
Jun 24, 2021
Read More
Find out what's next for LA hospitality vet Brent Bolthouse in the post pandemic era

Coachella is kaput for yet another year. Bars and restaurants are slowly coming back to life. The event industry could be forever changed. But LA restaurateur and nightlife veteran Brent Bolthouse sees opportunity. His signature party in the desert Neon Carnival is cancelled this year, but he and his restaurant partner Michael Mina are moving full steam ahead.
"God knows what events will look like in the next couple years," he says. But being flexible amid the pandemic has meant that he and chef Michael Mina have been able to bring their latest, albeit modified, concept to life.
"I keep calling it a beautiful disaster," says Bolthouse. "So many things worked out well in the pivot, that even if we planned it, it wouldn't have worked out so well," he continues. "So, I think the universe was on our side."
Bungalow Kitchen: Social dining becomes the new nightlife


The concept - a fine dining riff on The Bungalow, Bolthouse's family of beachside boho lounges - didn't start as such. Mina had signed on to create a laidback menu of bar bites. "Pizzas, tacos, stuff to nosh on," says Bolthouse, "No lobster pot pie." But as a wave of partial reopenings and fits and starts hit the industry, it became evident that business as usual wasn't going to fit the new hospitality landscape.
"Obviously, in October there was no vaccine, no hope in sight. The world was not moving in the right direction, at least in the hospitality business," he says. "I had a conversation with Michael and I said, 'Bars are not going to survive. Not in the climate that it is.'"
What came from the team's recalibration was a concept they call social dining - part nightlife, part restaurant. "Maybe we call it Bungalow Kitchen," he remembers, "and take all the things that people love about The Bungalow, which is late night and entertainment." While it's not nightlife per se, Bolthouse thinks the concept hits a middle ground that's perfect for the current climate.

"As we come out of this post pandemic world, maybe you're not going to go back to a nightclub right away. But I'd love to go to a restaurant," he says. "And they have a DJ. And the energy goes up. And we leave at 12:30. And we just had a great dinner." For Bolthouse, like many, it's still about picking and choosing their outings. "Do I want a Michelin restaurant or a fun restaurant?" he asks. ""Right now I'm going for the fun."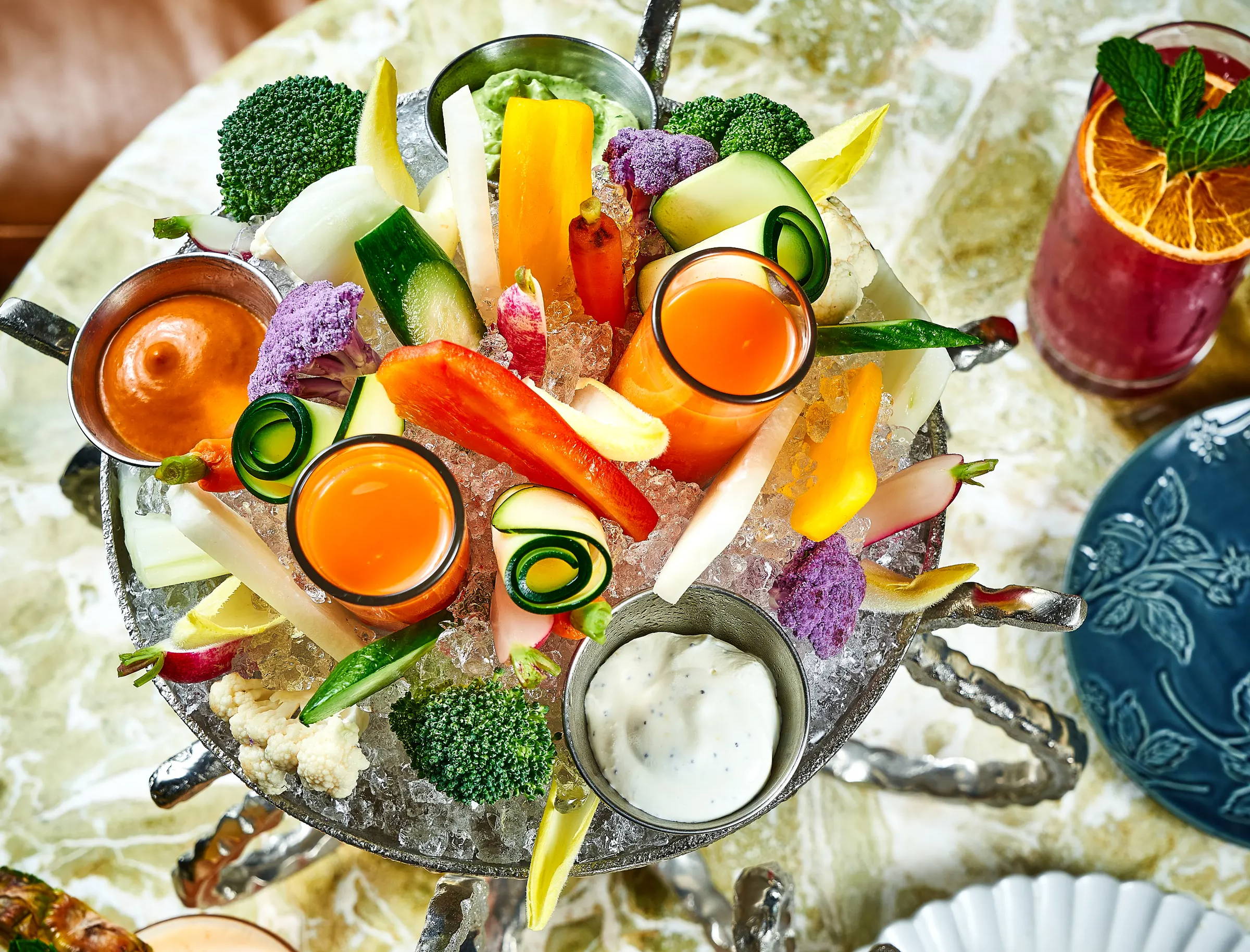 Beyond 4 Boxes: Corporate events and Neon Carnival

Speaking of fun, Bolthouse has been in the business of fun since the 1980s. He started as a nightclub promoter in Los Angeles and fell into event production almost by chance. He's thrown parties for HBO, Maxim, and Janet Jackson, and knows there's an art to creating the right vibe.
"I've been to events all over the world, and I'm like, 'They've got money, there's a couple cute girls here. A few celebrities. But no one's really drawn it together to make it fun,'" he says, "It's like a work event."
"We've always looked at it sort of differently and thought, 'How can you make a fun experience for the people that are there?'" says Bolthouse. "It's not just four boxes. Sometimes event planners think about the four boxes. And that's important, to a certain degree."
A private event for Six Flags galvanized his idea that events should be, well, eventful. They closed the park, and Bolthouse invited 500 friends from Hollywood to partake in food, bevs, and rides for free.
"It was one of the funnest parties we've ever done in our entire lives," he remembers. "Gwen Stefani was running down Magic Mountain high fiving me going, 'This is the greatest day of my life! I haven't been able to go to Magic Mountain since I was a teenager.' For real - she just can't go."
Bolthouse would springboard off the concept a few years later, creating Coachella's unofficial afterparty. "Oh my god, we need to do an adult carnival," he remembers. "I got the idea from that party." While it's not affiliated with Coachella, images of Neon Carnival have become nearly synonymous with the star studded festival just outside of Palm Springs. Bolthouse, who grew up in nearby Joshua Tree, pulls a little local cred while he's at it.
"I mean, we did get 24 billion media impressions the last year we did it," notes Bolthouse. "What? Is that even real?," he muses. "That's what I tell the PR team. I'm like, "'Don't lie.'"

Whatever the future holds for Neon Carnival, it's been a wild, illuminating ride. "I'm still, every year, grateful and shocked that we came out of that landscape - with some of the biggest brands in the world - and we threw the best party at Coachella," he says. "And if it ended, it ended on the best note."
Bringing It Home: Neon Carnival inspired signs

You may have missed the party in the desert this year, but it doesn't mean you can't channel those Indio vibes. Grab one of these LED neon signs and create your own oasis at home. If you're ready to get even more meta, customize one with a design of your very own.