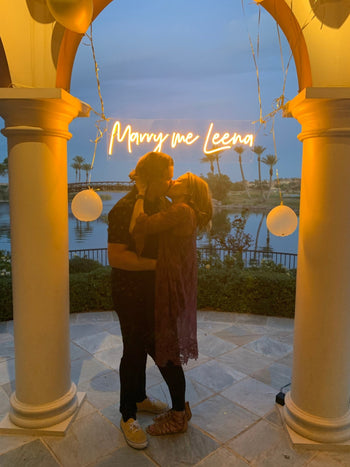 Love in Lights: A Vegas proposal with a custom LED neon sign
Feb 21, 2021
Read More
Vegas is known for its iconic neon lights, and for these two locals, they spelled love.
"Finding love is definitely the best thing that has ever happened to me," says Cole, a hotel manager from the hospitality capital of the world. He and his fiancé Leena had known each other since childhood. But it wasn't until she returned from working abroad that their friendship took a more romantic turn.

"We have actually known each other since elementary school," says Cole. "So with us both now in our thirties, we have known each other a long time." For four years, Leena had been teaching in Australia, New Zealand, and South Korea.

"I knew she was the one, really, the first time we hung out with each other after she was living overseas for many years," remembers Cole.
"There was some kind of immediate connection that we felt with each other." After three years of dating, Cole was ready to make his move. The two childhood friends had always been "a tad different from the standard norm," so he knew his proposal needed to be too.

Using a custom LED neon sign to pop the question was a bit of a lightbulb moment, if you will. "It was just something that I came across and thought it would be unique," says Cole. "I also hadn't seen any of my friends do it before so I wanted to stand out." And stand out he did. He enlisted the help of Leena's mother and his own to pull off the top secret mission.
"I set up a special location at Lake Las Vegas, which was the location of our first Valentine's Day together," says Cole. The low key resort served as the perfect engagement venue, tucked away from the noise and crowds of The Strip. "It happened right at sunset, so the sign looked amazing with the lake backdrop," says Cole. "The neon sign was a game changer that really made the occasion extra special."
As for the Marry Me Leena sign? Well, they'll hang it up at their engagement party and find a cool place for it in their house. "It's completely unexpected, and it's something you can cherish and tell stories about for a lifetime," he says.
So what does date night look like for these two neon obsessed lovebirds? "We actually have a place in town called The Neon Museum which features all of the old Las Vegas signs from the past and old hotels and casinos." Cole says of the couple's favorite neon lit spot, "Definitely a great visit to get the old Vegas feels."